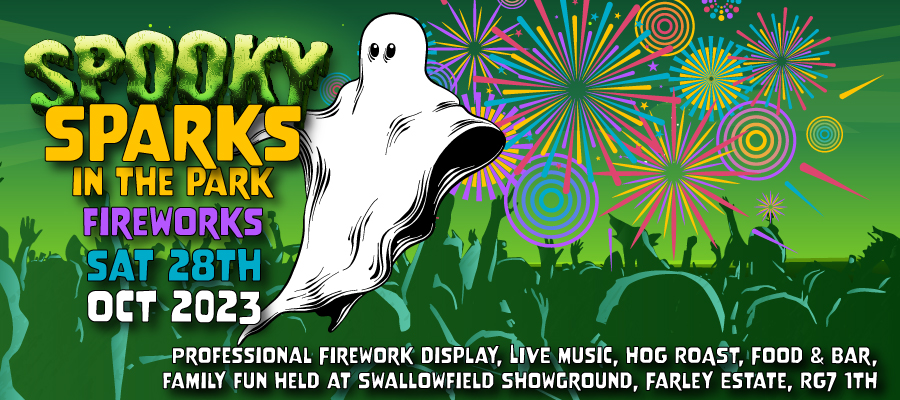 Family fun, Professional Firework Display, Music, Hog Roast, Food & Drink
Note – We are moving from the grounds of Swallowfield Park House
to Swallowfield Showground, Farley Estate, RG7 1TH
Held at Swallowfield Showground
This is a very popular and fun event for all the family. Tickets are sold online at the beginning of September. Check this website for a link to purchase your tickets. Safety is our primary concern and we urge you to read the information to make sure you enjoy your evening.
Countdown to Sparks in the Park
A FANTASTIC FAMILY EVENING
Fireworks
The area's most spectacular professional display.
Bar
Mulled wine, soft drinks and beer
Music
Great sounds to get you ready for the show
Hearty food
Hotdogs, burgers, hog roast, pizza, snacks
No access will be granted without a ticket.
TICKET TERMS & CONDITIONS
All Tickets are sold subject to availability and to these Terms and Conditions. These Terms and Conditions should be read carefully prior to purchase and any queries relating to them should be raised with us prior to purchase. Purchase of Tickets constitutes acceptance of these Terms and Conditions. A valid Ticket must be produced to get into an Event. Removing any part of, altering or defacing the Ticket may invalidate your Ticket. It is your responsibility to check your tickets as if you have made a mistake it cannot always be rectified after purchase. Tickets are non refundable and non transferrable and your confirmation email with barcode should be provided either in print or on your mobile phone to gain access to the Event.
HOW DO I GET ACCESS?
You will only be granted access with the booking confirmation – this can be on your phone or a printout. Tickets are non-refundable and non-transferrable.
WILL YOU SELL TICKETS ON THE NIGHT?
No, there will be no tickets available at the gate. Tickets are only available online. If you do not have a ticket, please do not attempt to attend the event.
WHAT SHALL I WEAR, WHAT SHALL I BRING?
We recommend that you wrap up warm and wear suitable footwear; the field can be wet in November, so waterproof boots are recommended. We also recommend that you bring a torch. As Sparks is Spooky this year, we encourage face paint or fancy dress; however, please consider that some outfits may be flammable.
STAYING SAFE
Follow government guidelines and legislation regarding COVID-19 whilst you are at the event to keep you and others safe, if you or any of your group are showing symptoms, we request that you stay away.
Lost children – keep your children with you and accompany them to and from the toilet facilities.
Please drive carefully and slowly on the roads close to the event, and be courteous and vigilant.
CAN I BRING SPARKLERS?
You cannot bring sparklers or any kind of home kit fireworks to this event.
CAN I BRING ALCOHOL?
You cannot bring your own alcohol to the event.
CAN I BRING MY DOG?
No dogs or pets are allowed at the event.
ARE THERE TOILET FACILITIES?
There are toilet facilities provided, and each toilet is equipped with hand sanitiser.
CAN WE WALK TO THE EVENT?
We recommend locals walk to the event where possible. Car parking will be available in the village, and weather permitting, we may be able to offer parking on the lower field. Parking will only be announced closer to the event. Please bring a torch, as the route does not have lighting throughout.
HOW CAN I ORDER HOT FOOD?
Food will be available on a first-come, first-served basis from several great suppliers at the event. It is not possible to pre-order food this year. We are aiming for cashless sales this year.
WILL THERE BE ALCOHOL?
We will be serving alcohol and soft drinks at the main bar. Please drink responsibly and always ensure you have a designated driver.
CONSIDERATION WITH YOUR RUBBISH
Please use the rubbish bags provided and dispose of your rubbish safely throughout the event.
I BOUGHT MY TICKET BUT CAN'T FIND THE EMAIL
The email was sent from Farley Hill School PTA; if you need to contact us, you can do this via the Facebook page or email us: pta@farleyhill.wokingham.sch.uk 
FINDING SPARKS IN THE PARK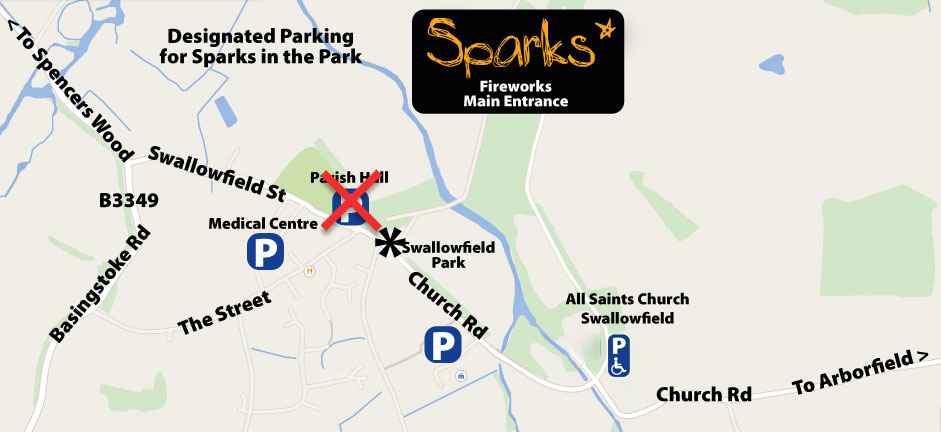 The event will be on the fields for the Swallowfield Show. The location is near the village of Swallowfield, approximately 4 miles south of Reading. Using the postcode RG7 1TH, head for Swallowfield Church.
Parking is available in the village at the medical centre and Brookside Industrial Park, if you live in Swallowfield, we encourage you to walk to the event where possible. If car park facilities are available at the event, we will notify you closer to the event as this is weather dependent.
Please arrive and leave quietly and be considerate to our neighbours.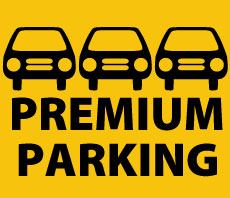 Premium parking will cost £3 per vehicle when booking online or £5 on the night.

There will be some limited free parking in the village further from the event.

Location on the field through the main gate of Swallowfield Park off Church Road.

The terrain is uneven so please ensure that you have a suitable vehicle (4×4 is not a requirement)

Premium Parking Tickets must be printed or shown on your mobile device on the night.

Please print your confirmation and place it on your dashboard when you arrive at the entrance to the Premium Parking area.

The car park will be open from 6:00pm

Last entry for access to parking is 7:00pm, last entry to the event is 7:15pm

Enter through the main gates of Swallowfield Park – please have your ticket ready.
On exiting, it will help considerably if cars going in the direction of Spencers Wood and Swallowfield can exit the way you came in, and cars for Farley Hill and Arborfield please use the secondary gate, as per this sketch:
https://drive.google.com/open?id=0B7iySaM0yTSRVDEzUW1tRWR0TDA
Please also remember that the event is run entirely by volunteers. Our helpers are there to direct you to the right place, but if you arrive after 7pm and are not granted access to the car park you may risk not being allowed in.
See you at Sparks for a great night out!
Farley Hill School PTA
THE SMALL PRINT
Strictly no entry/exit after 7.15 pm; gates will be closed before the fireworks display at 7.30 pm due to Health & Safety Regulations.
No exit before safety check following firework display. (approx 10 mins).
WHAT TO BRING
Warm clothes, torches and cameras are advisable. Please note bringing alcohol or sparklers is not permitted.
Please use designated parking signposted (see below).